The latest on CanAssist's future home: CARSA
Latest News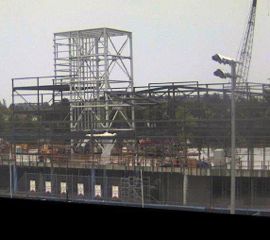 October 8, 2013
(This article was originally printed in The Ring, UVic's community news source.)
What will take thousands of pairs of hands to climb? Imagine an 18-metre tower, rising up near UVic's McKinnon Building. In less than two years, community members can belt into harnesses and scale UVic's new climbing wall themselves.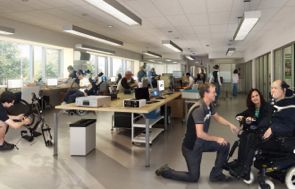 Groundbreaking took place early this year for the new Centre for Athletics, Recreation and Special Abilities (CARSA) and now the climbing tower's structural surround, which currently resembles a giant version of a child's magnetic building set, looms above the construction zone along Gabriola Road.
The work by Campbell Construction Ltd. is on a grand scale: floor space for the centre takes up the equivalent of three football fields; the volume of concrete to construct the building and adjacent parkade will fill 1300 concrete trucks; and the amount of reinforcing steel would weigh down 55 semi-trailer trucks.
CARSA is the university's first major athletics and recreation facility in over three decades. The building is also targeted to achieve the LEED gold standard. CARSA is scheduled to open in spring 2015.
As construction progresses, UVic continues to post information on the CARSA website, including traffic updates and story vignettes about the ongoing influence and impact of its future occupants: UVic's Vikes, sports and recreation programs, and CanAssist.
The foundation has been laid; the vision is becoming a reality.

************************************

At the 2013 Vikes Championship Breakfast, the University of Victoria showed this special video feature highlighting CARSA:
Go to Top