Shaw funding opens the world of choice to people with severe disabilities
Latest News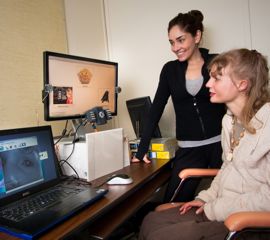 March 27, 2013

Generous funding from Shaw Communications Inc. has enabled CanAssist to continue developing a technology that helps people who are unable to speak or gesture with their hands the opportunity to communicate their choices.
CanAssist's Eye-Tracker System uses a special camera that follows a user's eyes, so that when their gaze rests on an object on a computer screen, they can choose it from among other objects. Objects are personalized for each user and categorized by themes, which, for example, might include pictures of snacks, videos, music, words or letters – virtually any object or any activity that can be illustrated.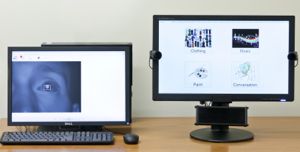 Thanks to Shaw's generous $45,000 grant, CanAssist was able to continue development of the customized Eye-Tracker System throughout 2012 to the point where it can now be used independently by families in their own homes. Shaw's funding also allowed CanAssist to provide the system to seven individuals with very challenging disabilities on Vancouver Island.
"The changes that were made basically transformed the Eye-Tracker System from a scientific, research technology into a tool that is clearly made for the end user," said Christopher Rajala, the project's lead software developer. "We made it customizable, quick and reliable."
While commercial eye-tracking systems exist, these systems tend to be prohibitively expensive, usually requiring a high level of technical knowledge and a specific calibration – or set up – procedure. Unfortunately, many individuals with challenging disabilities are not able to complete this calibration. As a result, these systems cannot be reliably used by anyone who has a cognitive impairment or whose cognitive ability cannot be determined.
To address their needs, CanAssist began developing a non-calibrated eye-tracker, along with complementary software that would enable users to participate in a range of activities.
One of the seven eye-tracker recipients, is Christie Worsley, shown in the photo at the top of this page. Christie is using the system at her day program at the local Garth Homer Society to make choices about entertainment and daily activities.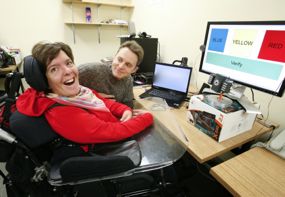 Meanwhile, another recipient, Vanessa Delgrande, is using the system to spell out words, letter by letter.
"With the Eye-Tracker System, Vanessa will be able to say more than she and her parents ever imagined – a big stress relief for Vanessa, mom and dad," said Paolo Delgrande, her father.
"At last Vanessa's personality will emerge. She will have found an open door to what communication really is and to what being autonomous really means."
| | | |
| --- | --- | --- |
| | | CanAssist would like to thank Shaw Communications Inc. for so generously supporting the development and delivery of the Eye-Tracker System. |
Go to Top