Simple music player application brings independence
Latest News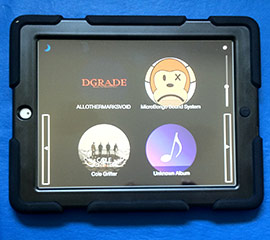 August 1, 2013
When
Community Living British Columbia
(CLBC) approached CanAssist to develop customized technologies for some of its clients, CanAssist software engineers jumped at the opportunity. CLBC's clients all live with developmental disabilities and anything that can be done to increase their independence can greatly enhance their quality of life. For these individuals, iPads and accompanying software programs present popular and practical opportunities for independence because of the accessibility features they offer.
After meeting with CLBC clients, CanAssist developers set about creating a highly accessible iPad music app that would give these individuals independent access to the music they love. CanTunes lets users select and play music on their iPads simply by tapping an album cover from their music library. At the same time, CanTunes reduces the need for caregiver supervision.
In the words of one satisfied parent, "Our daughter took to the iPAD wonderfully. It was amazing seeing her do something that she can do independently. After your team left, she played with it for at least an hour. It is going to be great for our summer holidays this weekend. This opens a whole new world for her."

CanTunes operates on the Apple iPad and can now be downloaded from the App Store for only $0.99.
CanAssist at the University of Victoria is dedicated to developing technologies for people with disabilities. While most CanAssist programs focus on clients in B.C., the organization has recently begun making its software technologies more widely available. Revenue from the sale of these technologies will be used to support the continued development of CanAssist services.
More information about
CanTunes.
Go to Top