Teenage client wows CanAssist with her generosity
Latest News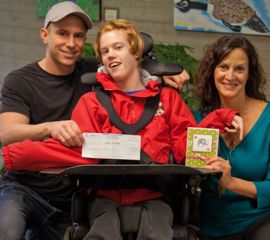 February 25, 2013
When our engineers developed a special device for Katie Philip's home business two years ago, staff never imagined the teenaged entrepreneur would donate her profits back to CanAssist.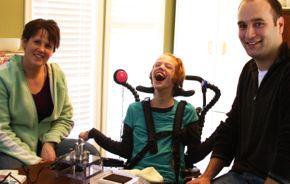 On Feb. 22, Katie dropped by CanAssist's offices with a cheque for $1,835 – money she earned by selling her beautifully creative homeade greeting cards.
"Katie is an amazing model of true generosity," said Tanya Switucka, CanAssist's client relations manager. "We could all learn a lot from her actions - she's an inspiration."

Katie, who has cerebral palsy, sells her cards and donates the proceeds to the various charities that have supported her. In 2011, CanAssist developed an automated stamping device for Katie, which provided her with some artistic independence – all her cards include stamped features.
Mike Jackman, a member of the CanAssist engineering team, came up with an elegant mechanical design that enables Katie to activate the stamping device all on her own by pressing a large button next to her cheek.
Tanya and Darcy Lane, CanAssist's manager of hardware engineering, were thrilled to receive the cheque and, not surprisingly, a lovely homeade card to go with it.
"Please take this donation as a huge thank you for your support," Sue Philip, Katie's mom, wrote in the card on behalf Katie and her family.
"Know that the work you do has an amazing impact on people's lives. The stamper changed mine!"
Katie, who attends Stelly's Secondary School, has her very own company, called karingcardsbykatie.com.
Go to Top