Teens drop by CanAssist before robotics competition
Latest News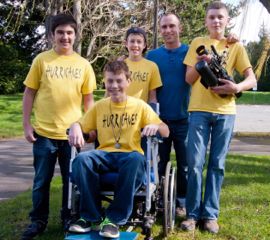 April 3, 2013
A groups of teens who will compete next month in an international robotics competition visited engineers at CanAssist for some feedback before setting off.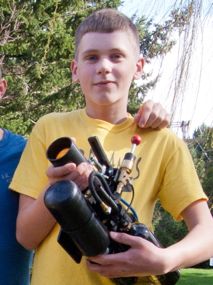 The group – called the Hurricanes – is a Lego robotics team comprised of four Grade 8 boys from Saanich and Oak Bay. They've developed a robotic lift system for people who use wheelchairs. The device – made from building materials, not Lego – is designed to help people with disabilities and seniors to get out of their chairs more easily.
"It's a neat thing for a group of teenage boys to come up with," said Darcy Lane, manager of hardware engineering, who provided team members with feedback on the device. "This is a smart, friendly and very motivated group."
The team – which includes Mason Jennings, Paul Gevers, Micah Alders and Liam Ensing – will travel first to Toronto to pitch their invention on CBC's Dragons' Den. Then in May, they'll head to Legoland in California to take part in a competition called the First Lego League Robotics, a program for nine- to 14-year-olds.

Read a more detailed article about the group on the Victoria News website.
Go to Top