Telus supports youth with disabilities in critical teen years
Latest News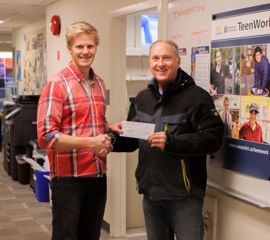 December 17, 2013
CanAssist is delighted to have received $7,500 for its innovative TeenWork program from the Telus Victoria Community Board.
Telus board member Roger Skillings recently stopped by CanAssist to present a cheque that will help the youth employment program in supporting teens with disabilities between 15 and 19 who experience barriers to finding and retaining part-time work.
"Telus is absolutely delighted to provide assistance to CanAssist," said Skillings, who handed the cheque to TeenWork Manager Hamish Black.
"We think you do phenomenal work," he added. "You make a real difference in people's lives."
The TeenWork model is designed to be an integral component in successfully transitioning young people into adulthood during their critical teen years, while at the same time supporting local economic development priorities and serving as a strategic investment to help reduce long-term reliance on government services and resources.
CanAssist is grateful to the Telus Victoria Community Board, which has provided funding in the past for projects such as software apps for youth employment and the development of CanAssist's Visual Music Browser.
"The TeenWork program can really change a teen's direction in life, so that he or she becomes a fully participating member of society," said Black. "This funding from Telus will help ensure that TeenWork can keep offering its services to some of the most vulnerable youth in our communities."
Go to Top