UVic course explores assistive technologies
Latest News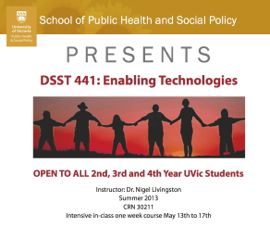 April 9, 2013
A one-week course at the University of Victoria will provide students with new insights into how technology can be used to greatly improve the lives of people with disabilities.
Called
Enabling Technologies
, the course is open to all second-, third- and fourth-year UVic students and will be held from May 13 through 17.
Dr. Nigel Livingston
, founder and executive member of CanAssist, will instruct this intensive, in-class course.
Presented by UVic's School of Public Health and Social Policy, the course will focus on innovations that enhance quality of life by enabling people with disabilities to participate in everyday activities. Students will be encouraged to think through challenges relating to function to support innovations that enable people to be more independent.
With course code DSST 441, this 1.5-credit offering runs each of five days from 8:30 a.m. to 4:30 p.m.
For more information, please contact Joan Gillie at 250-853-3845 or
jgillie@uvic.ca
or view the
poster
[PDF - 101 KB]
.
Go to Top