UVic names new Executive Director of CanAssist
Latest News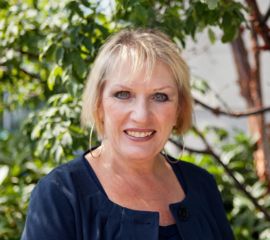 July 16, 2013
Robin Syme has been appointed executive director of CanAssist at the University of Victoria at an important juncture – as the organization creates more opportunities for student and faculty involvement, embarks on a new level of e-commerce and service contract delivery, and prepares to enter a new state-of-the-art home in UVic's Centre for Athletics, Recreation and Special Abilities (CARSA).
Through the combined talents of UVic students and researchers and community volunteers and partners, CanAssist develops practical, customized technologies and innovative programs to help people of all ages and across the disability spectrum improve their independence and quality of life.
Syme has been a member of CanAssist's executive team for more than five years, most recently as its director of partnerships. She brings a wealth of experience from her years with the provincial government, where she held a number of social policy portfolios as an assistant deputy minister in the Ministry of Children and Family Development.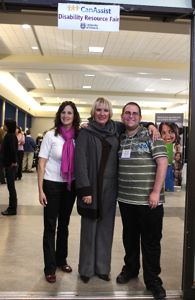 "The university takes great pride in CanAssist and its stellar track record in developing innovative customized technologies and programs for people with disabilities," said Dr. Reeta Tremblay, vice-president academic and provost. "I look forward to new opportunities for CanAssist, under Robin's leadership, to augment its contribution to the education of our students and the research endeavours of our faculty."
Syme's two-year appointment begins immediately. By the end of her term, it is expected that CanAssist will be moving into its new home in CARSA. This high-profile location will provide CanAssist with a significant increase in space; state-of-the-art labs and a machine shop that will greatly enhance the organization's ability to develop technologies and programs; and an enhanced capacity to engage students from a wide range of disciplines in CanAssist programs and operations.
Syme said she is also looking forward to overseeing the launch of CanAssist's online store this summer. Profits from the sale of selected CanAssist technologies will be reinvested into programs and services for clients with disabilities. Other upcoming projects include new service delivery partnerships with each of B.C.'s five health authorities and ongoing service contracts with organizations such as WorkSafeBC.
"I'm very excited about my new role at CanAssist and the opportunity to support more individuals living with disabilities," said Syme. "CanAssist will continue to extend its reach by developing new partnerships with organizations and strengthening existing relationships within UVic and the broader community."
Dr. Howard Brunt is stepping down as interim executive director after providing leadership over the past year in strategic planning and business development activities aimed at enhancing CanAssist's contributions to the university's academic and research missions, as well as to the disability community. Both UVic and CanAssist are extremely grateful for Brunt's leadership through this important time, said Tremblay. He will be continuing in his role as UVic's Vice-President Research.
"Having the opportunity to serve as the executive director of CanAssist for the past year, during a period of strategic and operational renewal, has been one of the highlights of my 20 years at UVic," said Brunt. "Given Robin's success as CanAssist's director for partnerships, I am absolutely delighted that she has agreed to take on the executive directorship."
Brunt said he enjoyed working closely with Syme during the year-long reorganization, along with Director – Operations Mike Shannon and Dr. Nigel Livingston, CanAssist's founding director.
"Robin will help build upon the strong foundation created by Nigel and CanAssist's dedicated staff and, working closely with the academic and disability community, she will undoubtedly help CanAssist achieve even greater things in the future," Brunt said. "I look forward to continuing to work with Robin and the Provost on CanAssist's Board."
Dr. Nigel Livingston, who founded CanAssist in 1999 as a small volunteer venture, will be taking a one-year study leave. Upon his return, Livingston will become a member of the CanAssist Board, in addition to his membership on the newly formed CanAssist Academic Steering Committee.
"On behalf of the University of Victoria, I would like to thank Nigel for his great vision and tireless efforts associated with the creation and growth of CanAssist," said Tremblay.
Go to Top