Vancouver Foundation funds apps for employment
Latest News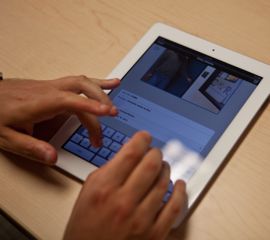 January 30, 2013
A CanAssist project that will provide employment-related software tools to people with disabilities got a big boost from the Vancouver Foundation.
The Foundation is providing $142,340 to "Apps for Employment," a project in which CanAssist will work in partnership with community agencies to create software applications – or "apps" – designed to help people with disabilities obtain and retain meaningful employment.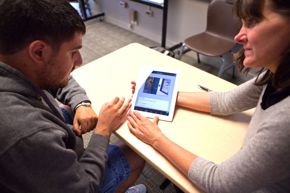 Through this project, more than 50 people with disabilities will benefit directly from using apps in areas that may include: travelling independently to and from interviews or work; performing on-the-job activities; learning new tasks; managing time; and taking responsibility for income.
Specifically, the tools will focus on assisting people with developmental disabilities, acquired cognitive challenges, autism spectrum disorder or fetal alcohol spectrum disorder. Clients will be identified by agency partners in the Victoria and Vancouver areas and, along with their job coaches, will provide feedback to aid CanAssist in refining the apps.
''CanAssist is thrilled that the Vancouver Foundation has provided this generous support and excited to undertake a project that will help people in very practical ways," said Director – Partnerships Robin Syme.
"The apps will operate on technologies such as smartphones and tablets, which are extremely popular in our society. These devices are especially attractive tools for people with disabilities who don't wish to seem different."
At the end of the two-year project, the software tools and supporting materials will be made available on an "App Store," providing employment-related assistance to those with disabilities on a wider scale.
| | |
| --- | --- |
| | The Vancouver Foundation is Canada's largest community foundation and the only one in the country that that funds projects throughout an entire province. |
Go to Top