CanAssist supporters "blown away" by technologies, CARSA
Latest News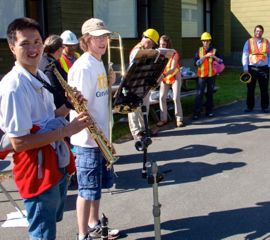 June 10, 2014
CanAssist supporters were among the first members of the community to get a sneak peak inside the new Centre for Athletics, Recreation and Special Abilities.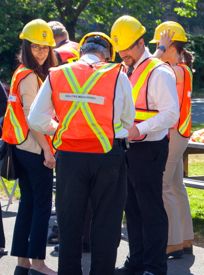 On June 4, outfitted with hard hats, steel toe rubbers and safety vests, CanAssist donors and partners were guided through the area which, in less than a year, will be home to CanAssist's offices, labs and machine shop. The building will also house UVic Athletics and Recreation, and those on the tour took time to marvel at CARSA's 80-foot climbing tower, which rises just steps away from the entrance to CanAssist, and to imagine the roar of the crowd at a Vikes game while they surveyed the structure's impressive performance gym.

The tours were part of Blue Sky Thinking, an event held in honour of CanAssist supporters, which also included technology demonstrations, live music and plenty of lively discussion.
More than 70 people turned out for the event, the title of which suggests taking a creative, new approach to challenges – much like the work CanAssist undertakes in developing customized technologies and innovative programs for people representing the full spectrum of disabilities.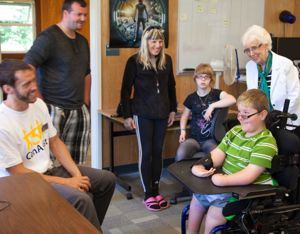 "The event was really a way for CanAssist to thank its supporters for their belief in our ability to help people with disabilities," said Anne-Lise Loomer, CanAssist's development officer. "They really show steadfast commitment to the work we do and we couldn't do this without their support."
She added that by placing CanAssist front and centre in CARSA, UVic has demonstrated its strong belief in the importance of CanAssist's work.
"It speaks to the University's commitment to providing a tangible service to the community, to supporting those with disabilities and to raising awareness about disability issues, both within the student and academic community and the community at large."
The event, appropriately held under a clear blue sky, provided an excellent opportunity for members of CanAssist's engineering team to showcase technologies currently being developed, including:
a new software app that converts the movement of a device such as an iPhone or iPod Touch into many possible forms of musical expression;
an exercise bike that encourages users by making the pedaling, steering and braking of the bike control the play in a video game; and
the BatSwinger, a device that allows people with a wide range of disabilities to swing a baseball bat independently, by pressing a large button with any part of their body over which they have control.
CanAssist is most grateful for the time and effort provided by the friends, clients and families who came out on June 3 to demonstrate their technologies, play music and make the day such a great success.
The following is just a small sampling of comments provided by attendees:
"Unbelievable afternoon – I was so impressed!"

"You folks are doing a fabulous job. Thanks so much to all of you."

"Mind blowing!"

"Thoroughly enjoyed the presentations. You are marvelous. Keep up the good work."
Go to Top