CanAssist thrilled to benefit from "glittery" bridge event
Latest News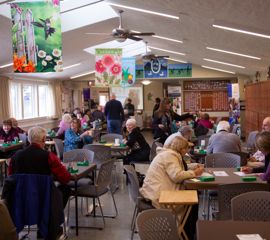 April 30, 2014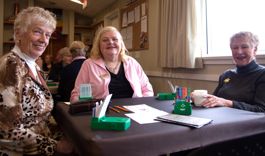 More than 70 people turned out for a Glittery Affair, a charity bridge event that raised almost $6,000 for CanAssist. The funds will be used to provide direct help to individuals with disabilities in the community.
Held April 7, the event featured numerous door prizes, scrumptious food and, of course, plenty of opportunity to play bridge.
Ewa Zwicky, an annual donor to CanAssist since 2009, organized the fundraiser, soliciting numerous businesses for door prizes and food.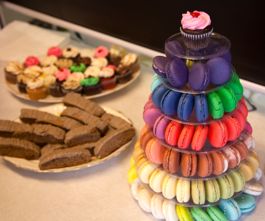 "We really want to thank the bridge players for their enthusiasm and generosity," said Anne-Lise Loomer, CanAssist's development officer, who spoke at the event. "The event not only raised critical funding that will directly help people living with disabilities but it also raised much-needed awareness of the incredible work that CanAssist does."
Encouraging fellow bridge players to attend the event and support CanAssist, Zwicky wrote the following in a bridge club newsletter article: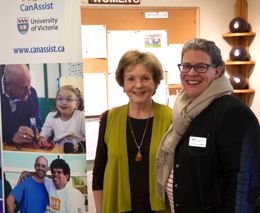 "Seeing the look of unsurpassed delight and laughter on the face of a three year old, who, thanks to a specially designed brace, is at last able to enjoy swinging on a swing and participating in the fun of a playground instead of just watching other children having fun...well, something like that really touches one's heart."
Attendees paid $25 per ticket, and many made additional donations to CanAssist on top of that.
All staff members at CanAssist are grateful to the event's attendees and especially to Zwicky, for her passion, hard work and vision in making the Glittery Affair such an enormous success.
Go to Top