CanAssist updates its vision, mission and goals
Latest News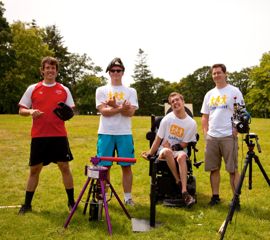 February 12, 2014
CanAssist is very pleased to share its new Vision, Mission and Goals, as well as four new Values. The new statements were part of an extensive strategic planning process that CanAssist completed in 2013.
Vision
In partnership with the disability and academic communities, CanAssist will be recognized as a global leader in creating technologies, programs and services that contribute to a truly inclusive society, where everyone has the opportunity to participate and contribute.

Mission
CanAssist collaborates with the community to develop and deliver innovative customized technologies and programs to improve the quality of life of people living with disabilities, while at the same time providing students and faculty at the University of Victoria with rich and meaningful opportunities for education and research.
Goals
The following four goals were listed in CanAssist's Strategic Plan of 2013-14:
1. Academic relevance and value
CanAssist will provide an exceptional interdisciplinary environment for students
and faculty members in which they can advance UVic's educational and research missions.
2. Civic engagement
CanAssist will contribute to UVic's civic engagement objectives and reputation by optimizing collaborative partnerships that deliver effective technological solutions
to the disability community.
3. Sustainable operating model
CanAssist will develop a sustainable operational and funding model that facilitates technological solutions and services to the disability community while at the same time meeting UVic's educational, research and civic engagement objectives.
4. Governance
CanAssist will be accountable to the university and broader community by implementing high-quality governance and management mechanisms and processes.
Values
Innovation
Because CanAssist addresses unmet needs, our technologies are unique and creative. Yet we avoid innovation for its own sake, focusing instead on ensuring that a given technology isn't already available in the marketplace. If is isn't and an idea for a new or modified technology is technically viable, then we will develop the most practical and cost-effective solution.
Client Focus
In developing any technology, CanAssist's starting point is always the client. Over the years we have learned that fully understanding each person's unique needs and interests leads to the most effective technological solutions, which help increase independence and improve quality of life.
Passion
At CanAssist, we care deeply about our clients and the work we do. Ultimately, we want to have the most positive impact upon the largest number of people with disabilities possible through work that reflects our strong commitment to excellence.
Accountability
When asked about CanAssist's values, our staff favored an old-fashioned word: "prudence." We are committed to working with our clients and partners in a thoughtful and responsible way, adhering to best practices in business operations, including transparency and accountability.
For more general information about CanAssist, please see our About us section.

Go to Top