CanAssist welcomes terrific group of co-ops
Latest News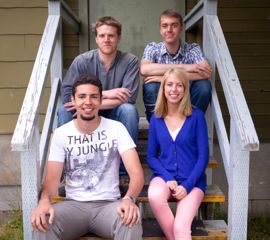 June 4, 2014
Four top-notch co-op students have joined CanAssist for the summer term.
James Stone, a recent graduate from UVic's software engineering program, returns to CanAssist for a second co-op session. He has begun working on software apps that will support people with disabilities in employment settings.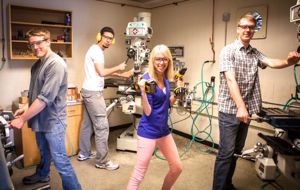 Paulo Marcos, an international student from Brazil who is in the final year of a computer science degree, will also be working in CanAssist's software lab. He is currently focusing on developing a movie player than can be controlled with a single accessibility switch.
Alex Eberle, in fourth year mechanical engineering, is a welcome addition to CanAssist's hardware lab. Alex will be working on numerous projects that include an accessible camera, a video gaming controller and an adapted tricycle.
Brooke Parlby, in her final year of a psychology degree, and will work as a job coach for TeenWork, CanAssist's youth employment program. Job coaches support participants in areas such as creating resumes, practicing interview techniques, mastering job skills and understanding appropriate workplace etiquette.
"CanAssist is very lucky to have four bright and enthusiastic co-op students joining the team this summer," said CanAssist Executive Director Robin Syme. "I am looking forward to seeing the ways that each of them make a positive and lasting impact on the lives of our clients with disabilities."
To date, several thousand students from UVic and beyond have taken part in CanAssist activities in numerous ways: as part of co-op work terms; as longer-term graduate students; as volunteers; on overseas exchange programs; and as part of academic courses or student practica. Their participation continually enriches the CanAssist program by bringing passion, fresh perspectives and innovative thinking.
For more information, please see Student engagement program.

Go to Top