Countess learns about CanAssist, ONC and CARSA
Latest News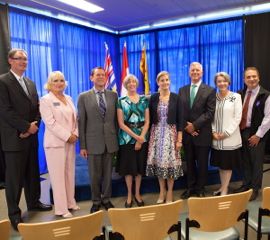 September 15, 2014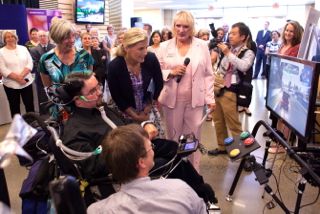 CanAssist staff and clients were thrilled to meet Her Royal Highness, Sophie, The Countess of Wessex, during a visit to the University of Victoria on Sept. 13.


The Countess and B.C.'s Lieutenant Governor, the Honourable Judith Guichon, visited UVic to view presentations by CanAssist,
Oceans Network Canada
and the
Centre for Athletics, Recreation and Special Abilities
(CARSA). The event was part of a five-day tour of B.C. by the Countess and her husband, Prince Edward.
The afternoon's activities began with presentations by Oceans Network Canada and CARSA - the new athletics building that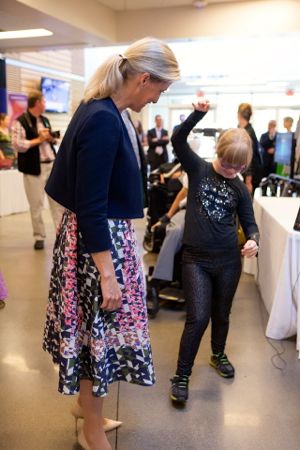 is due to open in 2015 and will house CanAssist.
Several CanAssist staff and clients then provided demonstrations of some of the organization's innovative technologies for people with disabilities, while job coaches and teen participants were on hand to explain the unique
TeenWork
program.
The formal presentations and speeches were followed by tea and a chance for guests to mingle.
"Having the opportunity to show the Countess some of the amazing work being done at UVic was wonderful," said Robin Syme, CanAssist's executive director, who led the CanAssist portion of the tour. "It was an honour to have her and the Lieutenant Governor come to UVic to visit."
The event was hosted by UVic President Jamie Cassels and emceed by Carmen Charette, VP external relations.
The Countess is known to be particularly involved with charities relating to children, disabilities and communication problems. During the event, she showed a keen interest in the technologies on display and, even more, in the people demonstrating them.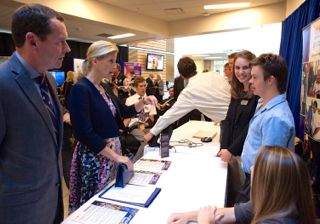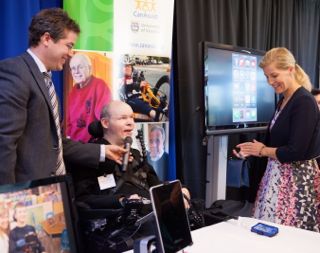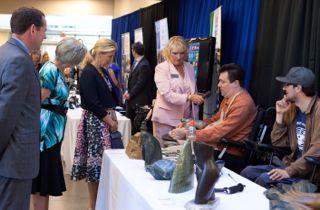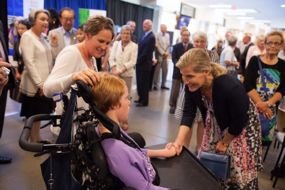 Go to Top