Declan's new bike gets him out and about
Latest News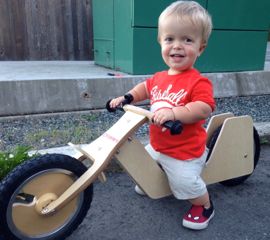 October 1, 2014
Declan is a sweet and active two-year-old who isn't able to participate in certain recreational activities because of a genetic condition.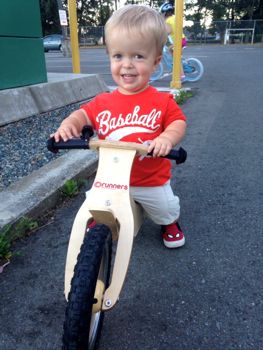 Having achondroplasia means the youngster's legs are shorter than usual, resulting in mobility challenges. His family hoped CanAssist could modify a push bike so Declan could enjoy a fun and safe outdoor activity.
CanAssist's Alex Eberle, who undertook the project, identified two key goals: to find a lightweight and portable push bike (which has no gears or pedals) to accommodate they boy's short legs, while at the same time maintaining the look and feel of a regular bicycle with a sturdy and supportive frame.
To start, Alex purchased a commercial wooden push bicycle from Mountain Equipment Co-op and removed all the main components. He then used a sheet of birch plywood and designed a new custom frame to match Declan's specific body measurements. The result was a set of identical strong, stable and aesthetically pleasing frames that were cut out, sanded, varnished and drilled to line up with the bike's wheel bearings and seat attachment points.
"Before delivery, the new push bike was tested for functionality and safety," said Alex, who is in his fourth year of mechanical engineering. "The final product accomplished the two main goals of the project, while allowing room for Declan to grow, so he'll be able to use the bike for many years to come."
Following delivery of the bike, Declan's mother reported that the youngster is thrilled to be able to ride alongside his older sister. In addition, she says, the bike is helping develop muscle tone and strength.

Go to Top