Happy Halloween 2014!
Latest News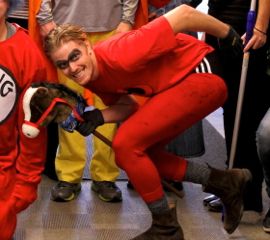 October 29, 2014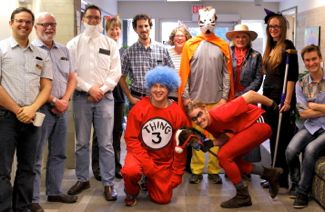 CanAssist staff enjoyed a delicious potluck to celebrate Halloween and to say a fond farewell to colleague
Hamish Black
.
Hamish joined CanAssist in 2010 as a job coach with the
TeenWork
youth employment program. Over the years, he was promoted to Manager of TeenWork and, later, Manager of Partnerships. Hamish is leaving CanAssist to train and live full-time in Calgary as a speed skater, with dreams of joining Canada's national team.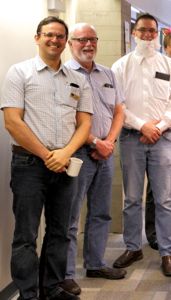 On Oct. 29, he dressed as Dash, a speedy character in the movie
The Incredibles
. Earlier in the day, he dressed as - what else - a speed skater. Other team members' costumes included a cowgirl, a witch, a lion, a princess, a cat and Thing 3. Three people dressed as
Mike Shannon
, CanAssist's director of operations.
CanAssist wishes Hamish good luck in Calgary.
Happy halloween, everyone!
Go to Top