Ornament symbolizes Christmas and accessibility
Latest News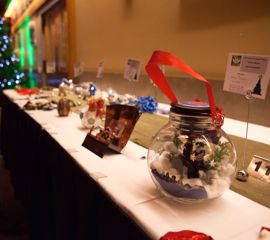 November 24, 2014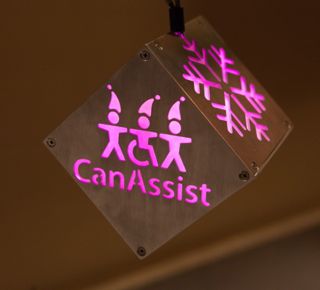 Christmas came early for CanAssist staff, as the organization earned first prize in a contest to create UVic's top festive ornament of 2014.
Thirteen UVic departments, faculties and centres submitted homemade Christmas ornaments as part of the first-ever contest, organized by the University Club.
Members of CanAssist's engineering team designed and developed a one-of-a-kind electronic ornament that is accessible to people with disabilities. Second place went to UVic's Ceremonies and Events, which designed an intricate miniature model of a graduation taking place in the University Centre. The Countdown to CARSA team (Centre for Athletics, Recreation and Special Abilities) picked up third place, with a unique skipping rope decorated with sports equipment and CARSA paraphernalia.
"This is a wonderful opportunity over the holiday season to profile the incredible talent and capabilities of our CanAssist engineers," said CanAssist Development Officer Anne-Lise Loomer. "We hope that guests at the University Club will marvel at their creativity and be motivated to learn more about our work."
CanAssist's design features a hollow aluminum cube with six machine-stenciled cut-outs of Christmas trees, snowflakes, UVic's logo and a festive version of CanAssist's logo. As the cube rotates slowly, the colors shining through the images change from blue to red, pink, orange and green.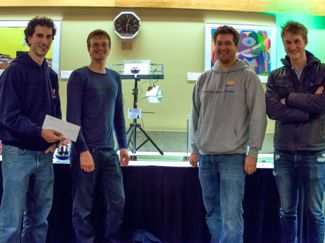 In keeping with CanAssist's mission, the operation of the ornament is accessible for people with a wide range of disabilities. Its motion is initiated by pressing an "accessibility switch" – a large button used by many people with challenging physical disabilities to control many types of electrical devices. The button can be pressed by any part of the body over which a user has some muscular control, such as the head, arm, foot or hand.
"We wanted the ornament to have an interactive element, one that would allow observers to become involved with it," said mechanical engineering co-op student Nathan Muller. "A ground-level, easily clicked button that makes the device twinkle and spin accomplished this while adding some pizazz to the design."
All the ornaments created for the contest will adorn the University Club's Christmas tree in the weeks leading up to the holidays.
Go to Top