Save the date: join CanAssist for a very special event
Latest News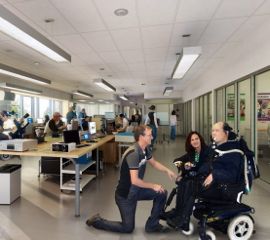 April 29, 2014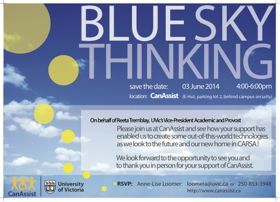 CanAssist is excited to invite donors, partners and other supporters to its Blue Sky Thinking event on June 3.
CanAssist's engineering team will show off some out-of-this-world technologies and chat with attendees about their projects. The event – hosted by Reeta Tremblay, UVic's Vice-President Academic and Provost, along with all CanAssist staff – is a wonderful opportunity for us to thank the community for its support and generosity and share our vision of our future in the Centre for Athletics, Recreation and Special Abilities (CARSA).

Join us for demonstrations, refreshments and a tour of our labs anytime from 4 p.m. to 6 p.m. Please RSVP Anne-Lise Loomer, CanAssist's Development Officer, at loomera@uvic.ca or 250-853-3948.
CanAssist is located in Parking Lot 2 on campus, near Campus Security and the Bookstore. For detailed directions, please check our contact page.
(Photo top left: an artist's rendering of CanAssist's new space in the Centre for Athletics, Recreation and Special Abilities - CARSA.)

Go to Top