Teen returns to gaming after long break
Latest News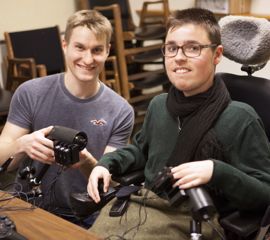 December 23, 2014
Christmas came early this year for Tristan Knapp-Fisher, as CanAssist's engineering team provided the young man with a highly customized gaming system.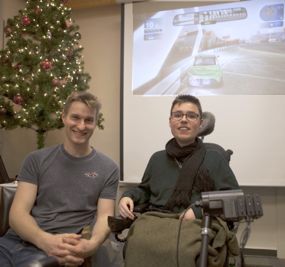 For years, Tristan enjoyed playing on his Xbox; but recently his hands and fingers weakened to a point where he could no longer use a standard controller. The Saanich teen has Duchenne Muscular Dystrophy, a condition marked by progressive muscle deterioration.
"It's been a long time since I've played – about two years," said Tristan.
"It was very quiet at home when Tristan could no longer play video games," recalled his mom, Karen McCoy. "He has really missed it."
On Dec. 23, Tristan and Karen visited CanAssist's offices at UVic to pick up the Accessible Gaming Controller. The system levels the playing field for gamers by enabling people with a wide range of challenging disabilities to use popular gaming systems independently. CanAssist's controller box acts as an intermediary between commercial gaming systems – such as Sony's PlayStation and Microsoft's Xbox – and a user's accessibility controls. These controls might include accessibility switches, joysticks or sip-and-puff devices.
For Tristan's requirements, engineers developed a highly-adjustable device for each of the young man's hands.
"Essentially we split the traditional gaming controller into two pieces, so that each of Tristan's hands could be positioned more comfortably and effectively," said Nathan Muller, a co-op student who worked on the project.
"Tristan's fingers fit into a glove-like device, with each finger able to control two buttons inside and each thumb a joystick."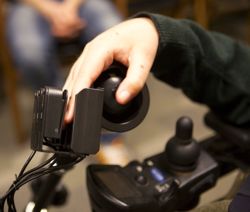 Within minutes of testing the system, Tristan had selected a racing car, chosen its color and begun racing it around a track at top speed.
"It feels so good to finally get back to it," said Tristan. "Thank you – this is so awesome!"
Like commercial systems, CanAssist's device enables users to play with other gamers whether they're in the same room or on the other side of the world. In addition, the device can be connected to a computer, allowing the user control up to 10 computer functions.
"This is excellent," said Karen. "It's something Tristan can do on his own or with a friend."
To the CanAssist team, Tristan appeared to be already very proficient at gaming. But the teen says it'll take a while to get used to the new controls.
"With a little practice, I'll get good," Tristan said with a grin.
Go to Top