Vancity funding helps teen employment program
Latest News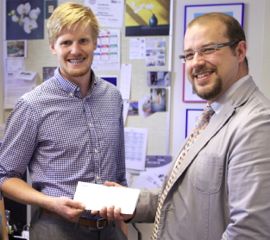 August 27, 2014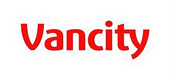 Job coaches at CanAssist's TeenWork program were delighted to accept a cheque from Vancity last week.
Two Vancity representatives – Ellen Pekeles, senior vice president operations, and Chris Tilden, Mount Tolmie branch manager – visited TeenWork staff to present a community project grant of $6,000.
For the third year in a row, Vancity has generously funded the innovative program that helps teens with disabilities find and retain meaningful part-time employment while they are still attending high school. Learning how to find a job and achieve employment success puts teens on a path to increased independence, confidence and likelihood of workforce participation as they near adulthood.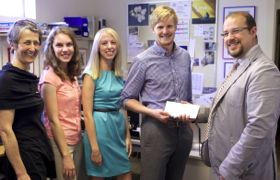 "We would like to thank Vancity so much for supporting the TeenWork program and recognizing the impact the program has on the lives of its participants," said TeenWork Manager Hamish Black.
Black added that Vancity also supports the program by offering free financial literacy workshops to TeenWork participants. The workshops cover topics such as how to bank safely, the importance of saving, how to write cheques, and so on.
"They learn important life skills that many people never get taught," Black said. "So far, Vancity has provided three financial literacy workshops for our teens and we are excited to continue working with the organization in this area."
Branch manager Tilden said Vancity is proud to provide financial literacy training to TeenWork participants.
"Providing basic financial skills to TeenWork participants helps them develop greater self-sufficiency and allows them to take charge of their lives," said Tilden. "Realizing what they are each individually capable of doing themselves is at the core of what TeenWork is about."

Go to Top