Video provides peek inside new CARSA building
Latest News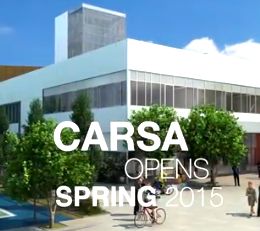 July 29, 2014

The University of Victoria has produced a terrific video that takes viewers inside the new Centre for Athletics, Recreation and Special Abilities.
Hosted by UVic's Zac and Shawna, the video shows the inside and surrounding area of CARSA, as construction of the building enters the final months. The centre's adjoining parkade is now nearly complete, allowing placement of the final beams for the performance gym ceiling and full enclosure of the building. In the meantime, the interior is a hive of activity as the structural and mechanical work — wiring, plumbing, concrete, drywall — gives way to the finishing work, such as tiling, flooring and painting.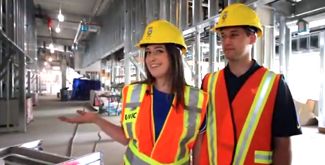 Visitors to the facility are struck by how open, expansive and full of light it will be. The sheer size of the structure is impressive, with floor space equivalent to the area of three football fields. That doesn't include the vertical terrain — the climbing wall with 370 square metres of bouldering and climbing space and a centrepiece of the building.
Near the climbing wall and just inside the main entrance, the space dedicated to CanAssist's offices, labs and machine shop is taking shape.
Robin Syme, executive director of CanAssist, is excited to move into the new space. "We've had a remarkable 15-year journey so far, but moving into CARSA is really going to give us the opportunity to take our work to a new level. We are so appreciative of the support UVic is providing us and our clients."
To read the complete story, please visit UVic's
CARSA website
.
Go to Top