CanAssist client wins silver at Parapan Games
Latest News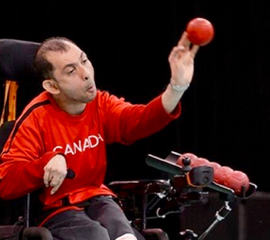 August 13, 2015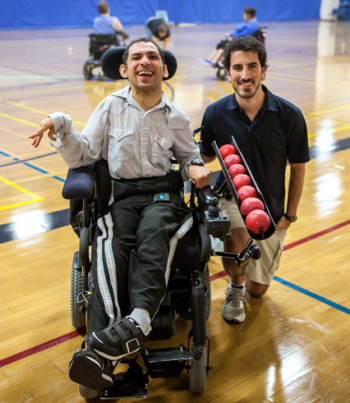 CanAssist client Hanif Mawji won a silver medal in boccia at the Parapan American Games in Toronto this week. The long-time competitor was using a device developed by CanAssist at the University of Victoria.
In September, CanAssist's engineering team designed a new bocce ball holder to enable Hanif to select and grasp a ball independently during competitive play.
"The ball holder has given Hanif confidence while competing in being able to pick up the ball himself rather than having the ball given to him by a sports assistant," his father, Hussein Mawji, told CanAssist when the new device was delivered. "And confidence is a requirement for mental performance and success in any sport."
Hanif, who is from Burnaby, is known for consistency and precision on the boccia court. These attributes have been on display at the games, which take place from August 7-15 and feature about 1,600 athletes from 28 countries competing in 15 sports.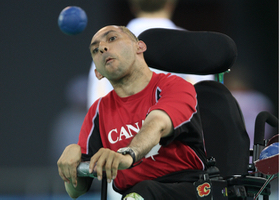 Last year, it became clear that Hanif's old wheelchair-mounted bocce ball holder had several shortcomings that were inhibiting his ability to compete. Concerns included the device's unstable mounting arms, its inability to collapse for easy transport, and the fact that it was developed for a specific type of wheelchair.
The new device mounts to his wheelchair and features an adjustable arm with a quick-release mechanism. This design allows the apparatus to be transferred to any new wheelchair with minimal modifications. The mounting arm is also collapsible, making it much easier to transport. The holder is rigid, so it doesn't move when Hanif grips the ball, while a new ball trough features more free space to reduce the chance of a ball becoming stuck.
Go to Top