CanWork software app helps in job settings
Latest News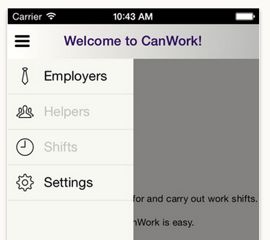 March 9, 2015
CanAssist is delighted to launch a free software app called CanWork, which supports people with a wide range of cognitive disabilities in almost any employment setting.
Virtually any workplace task can be broken into a sequence of easy-to-follow steps. For a given task, a user might initially goes through the activity with a support person or family member. Together, they may take photos of each step in the task. CanWork also has a scheduling component, easy access to contact helpers and notifications about upcoming shifts.
CanWork is compatible with iPhone, iPad, and iPod Touch and Androids (4.1 and up).
The app, which runs on Apple and Android devices, can be downloaded for free from Apple's App Store and Google Play.
Go to Top