New version of gaming controller lets boy play with brother
Latest News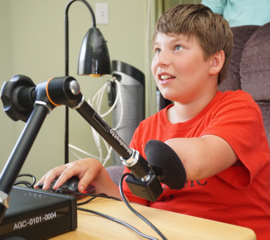 September 24, 2015
Josh is a very friendly elementary school student who, like most of his peers, loves to play video games. But the 10-year-old Victoria youngster found it very difficult to participate in gaming because typical controllers require the use of two hands.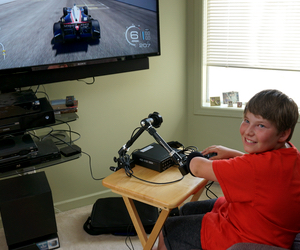 Josh would hold one controller with his right hand and uses his left residual limb to try to operate the left joystick, but without being able to access any of its buttons. Not surprisingly, this approach greatly limited the types of games Josh could play, the level at which he could participate and, as a result, his ability to play effectively with others. In addition, because of the length discrepancy between his arms, Josh had to maintain an imbalanced posture while playing that over time caused significant strain and fatigue.
CanAssist had just the solution for Josh.
The Accessible Gaming Controller provides young people with very challenging disabilities with the chance to participate in video gaming like their peers. CanAssist's controller box acts as an intermediary between commercial gaming systems – such as Sony's PlayStation and Microsoft's Xbox 360 – and a user's accessibility controls. These controls might include accessibility switches, joysticks or sip-and-puff devices.
In Josh's situation, the AGC system required additional customization so that he could control some functions with his residual left arm. The team developed an adjustable joystick without buttons that has a padded cup in which his left arm rests comfortably. Instead of using fingers, some functions are controlled by two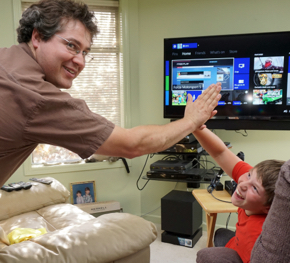 buttons that Josh presses with his feet. In addition, the team modified the system's software and adapter so that Josh could play on the new Xbox 1. Earlier funding from the Norgaard Foundation had already enabled CanAssist to undertake research to make the device more robust and accessible to people with a wider range of disabilities.
Josh was ecstatic about receiving CanAssist's Accessible Gaming Controller recently and the chance to begin competing with his brother.
"This is awesome – it gets a 10 out of 10!" the young man exclaimed when CanAssist delivered the technology. He added that his brother had better watch out. "My brother is going to get wrecked when I use my new system!"
Go to Top