Students' project to benefit families affected by disability
Latest News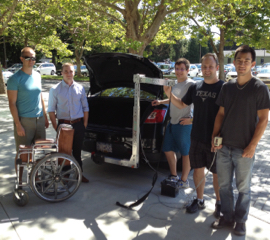 August 19, 2015
On the first day of Mech 400, students were told that they had to find an industry partner willing to mentor them for their major engineering project. So Trevor Grier headed straight to CanAssist, where he had just completed a co-op term.
"I approached CanAssist because I wanted to work on something that I knew would end up as a functioning product and that would benefit people," said Trevor. "Usually at the end of an engineering project, you don't ever think about it again once your class is over."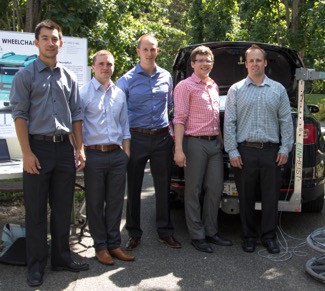 The timing was perfect. CanAssist had received funding to create a motorized lift for manual wheelchairs, which the organization planned to begin developing in the fall. Having a group of fourth-year engineering students work on an initial prototype during the summer would provide a great starting point for the project.
The motorized lift is one of several new technologies to be developed by CanAssist as part of CanStayHome. CanStayHome is an initiative funded by the BC Ministry of Health that will help seniors with physical or cognitive challenges stay in their own homes for as long as safely possible through the use of innovative, easy-to-use technologies.
During community focus groups CanAssist held earlier this year, the concept of a motorized lift was mentioned as something that would be particularly beneficial to older couples, in which one person uses a manual wheelchair and his or her spouse is too frail to safely hoist it into a vehicle.
"CanAssist provided the students with the basic requirements for the device and they came up with the design," said Mike Lewis, a mechanical design specialist at CanAssist.
The students – Richard Clark, Brad Perron, Hunter MacDonald, Steve Delorme and Trevor – developed an aluminum wheelchair lift that is mounted to a trailer hitch at the back of a vehicle. Comprised of a three-piece pivoting arm, the device folds down to sit below the vehicle's licence plate when not in use. Users attach a manual wheelchair to the device with a strap, then use the controls to direct the chair into or out of the car's trunk.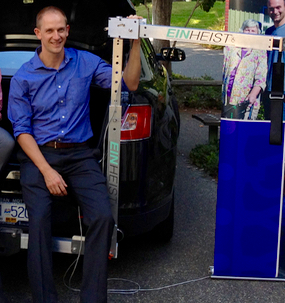 "The group obviously put a lot of work into it," Mike added. "It's a good, functional product and their initial work will be very useful to CanAssist."
In September, Trevor will begin another co-op term at CanAssist – the third of four co-ops required to complete his degree. He's excited to have the chance to work on the next iteration of the wheelchair lift and already has ideas about improving the original design, such as altering the type of motor and changing the strap so that it can lift more than just wheelchairs – for example, heavy groceries, walkers or animal carriers.
"This is why I chose UVic," said Trevor. "Of all the universities I looked at, it was the only one with an engineering school that has a strict co-op program. You have to complete four co-ops during your degree. I didn't want to graduate without that kind of hands-on experience."
Go to Top