Vancouver Foundation provides critical funding to TeenWork
Latest News
October 22, 2015
CanAssist is thrilled that the Vancouver Foundation will provide multi-year funding to its innovative and highly effective TeenWork youth employment program.
During a recent visit to CanAssist, several staff members from the Foundation's Grants and Community Initiatives discussed TeenWork's success and the program's potential for growth thanks to the new funding of $50,000 over each of three years, for a total of $150,000.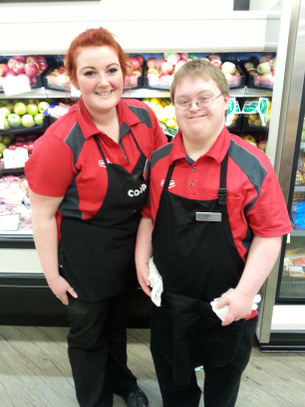 This funding will help TeenWork increase the number of teens it serves, diversify the participant population to include all vulnerable youth (including indigenous youth and teens in the justice system), and create training materials that will enable replication of the program by groups in other communities in B.C.
TeenWork provides support and on-site job coaching to teens with disabilities who wish to find part-time, paid employment while they are still in high school. The program, which has a 93-per-cent success rate in assisting participants in finding paid work, has proven hugely beneficial to youth as they approach adulthood, as well as to their families.
The Vancouver Foundation supported CanAssist in previous years on other innovative projects. The most recent of these involved the development of employment-related software apps that are helping people with a range of disabilities succeed in the workplace.
"We are so grateful for the continued support from the Vancouver Foundation," said TeenWork Manager Alyssa Hindle (far left in photo at the top of page). "It reflects the growing belief in the potential of our program, and we are thrilled to have the opportunity to reach out to more youth who need our support."
All staff members at CanAssist appreciate the vision and generosity of the Vancouver Foundation.

Vancouver Foundation is community inspired. We connect the generosity of donors with the energy, ideas and time of people in the community. Together, we've been making meaningful and lasting impacts in neighborhoods and communities since 1943.
(The photo at the top of the page includes several members of the Vancouver Foundation, with two TeenWork staff members on the far left and right.)

Go to Top