CanAssist helps 10-year-old boy get in the game
Latest News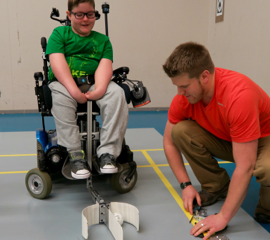 April 7, 2016
Ethan is a cheerful, outgoing 10-year-old who wanted to participate more actively with his peers during P.E. classes, recess and other recreational opportunities.
The Colwood Elementary student has a condition called Arthrogryposis, which means that movement in his joints is severely restricted. For example, Ethan has limited ability to control accessibility switches and uses head controls to drive his power wheelchair.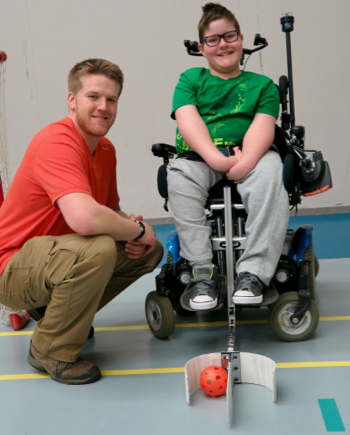 So CanAssist developed a unique wheelchair-mounted hockey stick.
"Giving Ethan tools to help him do things independently is key to his overall development," said the youngster's physiotherapist, Jade Simpson.
The stick, which mounts to Ethan's power wheelchair, features a blade surrounded by two pieces of rounded plastic that cup the ball or puck during play. The front and side blade areas are hinged and held in position with a magnetic break-away mechanism that releases during a collision. The device attaches to the chair with a quick-release bracket for easy setup and removal, while also folding together for easy storage.
On delivery day, Ethan, his teacher and physiotherapist were delighted with the design, which makes it possible for Ethan to move a ball up and down the court, pass and score.
Ethan tested his new hockey stick by playing a quick game with its designer, Alex Eberle, a mechanical engineering specialist at CanAssist.
"Ethan is so bright, he is quite aware of differences in opportunity," said Ethan's physiotherapist, Jade. "I typically see the kids out playing hockey during the breaks. Ethan was always out there last year participating as best as he could. Having a better hockey stick option will allow him to participate much more, and will make it easier for him to be involved with his peers."
Ethan's hockey stick was made possible through the generosity of an anonymous charitable foundation.
Go to Top