CanAssist's Brooke receives United Way award for her work with youth
Latest News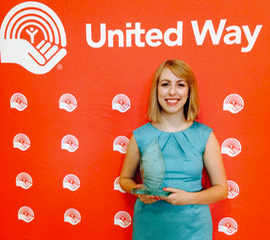 May 11, 2016

TeenWork Manager Brooke Parlby was thrilled to receive a Youth Now Award last weekend for her contribution to youth with disabilities.
Brooke was presented with the "Youth Worker Award" for her outstanding contribution as a leader and volunteer in the community at a May 6 event.
United Way and the Inter-municipal Youth Programmers' Committee organized the 18thAnnual Youth Now Award Recipients. Since the awards began in 1999, more than 1,000 young people between the ages of 11 and 29 have been recognized for their outstanding contributions as volunteers and community leaders.
Brooke began working as a TeenWork job coach in 2014 and recently became the program's manager. TeenWork is an employment program that helps participants find and retain meaningful, paid employment while they are still in high school.
"Since starting as a job coach in 2014, Brooke has consistently provided reliable, compassionate and one-on-one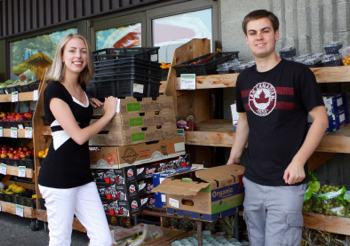 supports to the youth on her case load and their families," the awards program said. "She has also educated employers on the benefits of inclusive hiring and workplace practices, and as a result, she contributed to the shifting in culture towards inclusion in the labour market."
Outside of TeenWork, Brooke is a volunteer for Victoria Sexual Assault center and NEED2 Suicide Prevention and Education.
To read about the other wonderful award recipients, please go to the website of the United Way of Greater Victoria.
Go to Top