Celebrate ProMotion week!
Latest News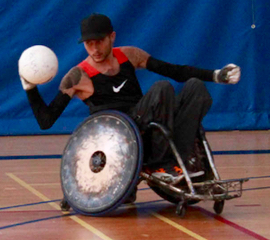 November 17, 2016
Celebrate inclusion and learn about the many opportunities in adapted sport and physical activity available in the region during OneAbility's ProMotion week.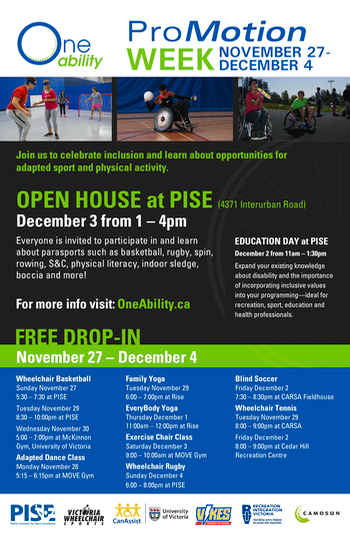 The week begins Nov. 27 and runs through Dec. 4. It features numerous free drop-in sessions throughout the week in which people of all abilities can try out various parasports, such as basketball, rugby, spin, rowing, indoor sledge and boccia.
Education Day, Dec. 2 at the
Pacific Institute for Sport Excellence
(PISE), is an opportunity for professionals, students and others to expand their knowledge about disability and the importance of incorporating inclusive values into programming.
On Dec. 3 – which is the United Nations' International Day of Persons with Disabilities – there will be an Open House event at PISE from 1 to 4 p.m.
For a complete list of events and speakers, please visit
oneability.ca
.
OneAbility is a unique collaboration of 26 Greater Victoria organizations working together to increase awareness and availability of adapted sport and recreation opportunities for people of all abilities.
Go to Top