Devices let kids throw balls to dogs – often for the first time
Latest News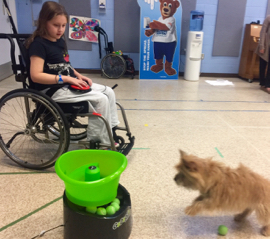 December 12, 2016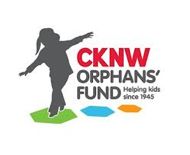 Many children who have never been able to throw a ball to a dog now have that opportunity at the Sunny Hill Health Centre, thanks to funding provided by the CKNW Orphans' Fund.
Two devices were recently provided to Sunny Hill to enable children with very challenging disabilities to send a ball flying through the air by pressing an "accessibility switch" – typically a large colorful button that sits on their wheelchair or lap. CanAssist's engineering team took a commercial dog ball launcher and adapted it so that it could be activated using such a switch.

"The dog ball launchers are fantastic in giving kids with limited mobility the opportunity to play independently with their dog," said Cheri Steele, a recreation therapist at the centre. Two youngsters who tried the device included Genevieve (shown in photo at the top of this page) and Max, featured in a video at the bottom of the page.

Sunny Hill, which is part of the BC Children's Hospital, provides specialized development and rehabilitation services to children who often have complex medical, physical and developmental needs.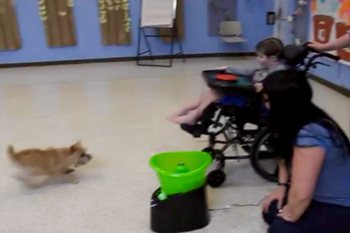 Steele said that the dog ball launcher is helping to motivate children to learn how to use an accessibility switch, a critical skill for many people with significant physical disabilities. Being able to activate a switch with any part of their body allows a person to control various electronic devices, which could include computers, communication devices and TVs.
"There are many applications, as the ball launcher is very motivating for the kids," said Steele. "The kids can learn the concept of cause and effect and practice targeting the switch. We can also change the position and size of the switch to help to improve their hand-eye coordination.
"Kids can also practice their mobility by chasing after the balls themselves" (for example, in their wheelchairs walkers).
Earlier this year, CKNW Orphans' Fund provided CanAssist with $35,000 to develop technologies for children with disabilities in BC. The dog ball launchers for Sunny Hill are among several technologies made possible with this funding.
The CKNW Orphans' Fund isdedicated to enhancing the lives of children living with physical, mental, social and behavioural challenges living in BC communities. The Fund recently named Sara Dubois-Phillips its new executive director. Dubois-Phillips is a senior communications and fundraising specialist with over 25 years of experience in the non-profit, corporate and media sectors.
"We're very much looking forward to working with Sara to make a positive impact in the lives of children across BC," said Anne-Lise Loomer, CanAssist's development officer.
Go to Top