Oak Bay Kiwanis support local teens facing barriers
Latest News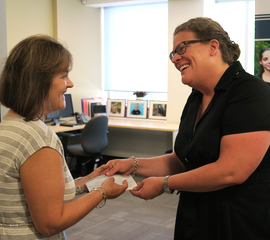 July 27, 2016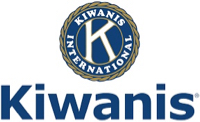 CanAssist is delighted to receive support from the Kiwanis Club of Oak Bay for the highly successful TeenWork employment program.
The Kiwanis Club has generously provided TeenWork with $4,000 that it raised during the Oak Bay Pumpkin Art display in October.
The donation will be used to set up a new fund that covers special costs related to finding employment, such as first-aid training, FoodSafe certification, appropriate equipment and clothing requirements, and so on.
"This is the first time TeenWork will have a dedicated fund to support these types of needs, which in the past have presented another barrier for many of our participants," said Brooke Parlby, the program's manager.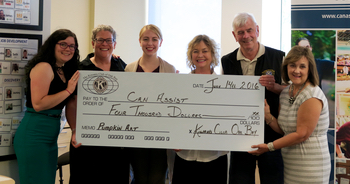 "We are so grateful to the Kiwanis Club for generously donating their time and energy to raise these funds, which will help ensure that a youth's employment opportunities are not limited by financial need."
Kiwanis is a global organization of volunteers dedicated to changing the world one child and one community at a time
"I believe that Teen Work is an essential and rewarding program to support," said Darlene Newburg, the Oak Bay Club's community service coordinator. "As a representativeof the Kiwanis Club of Oak Bay, we are so honoured to be able support them in what they do."
The Kiwanis Club of Oak Bay was organized in 1947 and since then has been actively involved in building and serving Oak Bay and the Capitol Region District through programs such as the Rose Manor, Kiwanis Pavilion, Victoria Best Babies and Children's Cancer Fellowship, to name a few.
"Starting our younger generation out by recognizing the need to help others will only build a better future for all of us. They are learning patience, compassion, and a sense of accomplishment," said Newburg. "It is a great feeling to go to sleep at night knowing you have helped to make a difference in the lives of others."
Go to Top