Vancity funding helps youth with disabilities join workforce
Latest News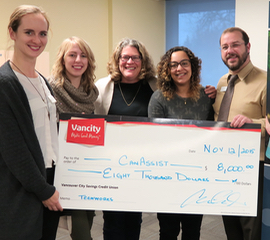 January 18, 2016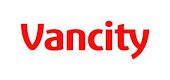 TeenWork, CanAssist's youth employment program, is grateful to receive another year of funding from Vancity.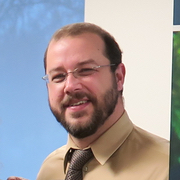 For the fourth year in a row, the credit union has generously funded the innovative program that helps teens with disabilities find and retain meaningful part-time employment while they are still attending high school. Learning how to find a job and achieve employment success puts these teens on a path to increased independence, confidence and likelihood of workforce participation as they near adulthood.
Vancity's Chris Tilden, manager of the Mount Tolmie branch, visited TeenWork staff to present a community project grant of $8,000.
"The TeenWork program focuses on the possibilities, and helps the participants realize their abilities to gain meaningful employment," Chris said "In collaboration with CanAssist, Vancity provides assistance through our Each One, Teach One financial literacy training program to contribute to their financial security.
"In addition we are equally as excited to hear about the ongoing work that the organization is undertaking to strengthen their own financial sustainability and look forward to working with them on these efforts."
Receiving ongoing support helps the TeenWork program remain sustainable over the longer term.
"We are so grateful to Vancity for continuing to support TeenWork's efforts to help youth in the Victoria-area to take their first steps towards long-term employment," said TeenWork Job Coach Brooke Parlby.
"For many of the youth we serve, achieving independence in their first job gives them confidence that they will be able to work throughout their lives and have greater financial security and independence."
Go to Top