Vote for CanAssist tree to raise money for BC Children's Hospital
Latest News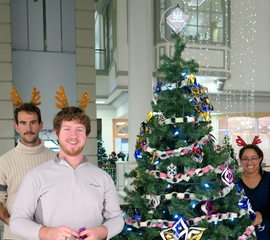 November 17, 2016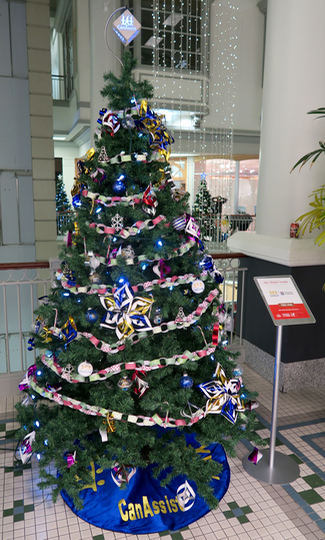 CanAssist is proud to have sponsored and decorated one of 85 trees on display during the annual Festival of Trees, which raises money for the BC Children's Hospital.
CanAssist's tree, featuring decorations created by staff from paper and metal, is topped by a rotating lighted cube fabricated in our machine shop.
"Participating in the festival has been a great team-building exercise for us and a wonderful opportunity to help children from across the province," said Ashley Browning, who led CanAssist's decorating committee and sewed a tree skirt complete with CanAssist's logo.
The festival, now in its 25th year, displays trees in both The Bay Centre and the Fairmont Empress in Victoria. Trees can be viewed from Nov. 16 through Jan. 5 at both locations.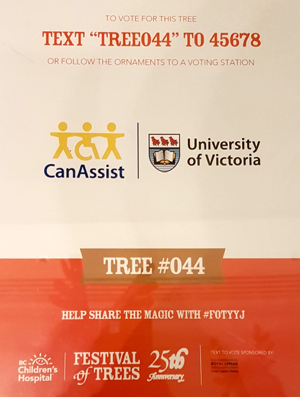 To vote for CanAssist's tree, text "Tree044" to 45678. You will be prompted to make a donation of $5, $10, $20 or $25 to the BC Children's Hospital. Each $2 raised counts as a vote for CanAssist's tree.
"It has been a lot of fun and for a terrific cause," said Ashely. "We're really glad to be a part of it."
For more information on the Festival of Trees, please visit the
BC Children's Hospital website
.
The photo at the top of this page was taken by CanAssist's Mike Lewis. CanAssist staff members shown (L-R) are Keir Maguire, Brenden Hodgson and Ashley Browning.
Go to Top