CanAssist releases impact report for 2016-17
Latest News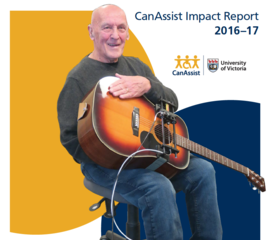 October 18, 2017
CanAssist is pleased to present its 2016-17 Impact Report, which can be downloaded here [PDF – 2.1 MB]. You can also request a hard copy of the document here.
This year's report features:
a snapshot of some of the newest technologies that we have developed and the clients who received them
highlights from our academic engagement program
stories of youth assisted by our TeenWork employment program
our financial outlook for the year
information about our donors and partners
and more!
The Impact Report's cover features Chuck, a guitar player who suffered a stroke in 2003 that left him unable to play his guitar due to paralysis. CanAssist developed the Guitar Strummer for Chuck, which has enabled him to play his guitar again.

Learn more about Chuck and many other inspiring clients and partners in this year's impact report.
Go to Top