Check out CanAssist at ThunderFest
Latest News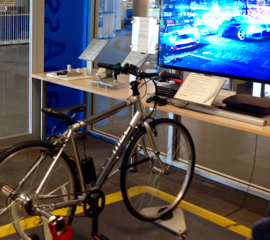 September 7, 2017
CanAssist is thrilled to be a part of ThunderFest at UVic this year and we will be taking the opportunity to show off some of our technologies.
One of the technologies that will be on display for students and other visitors to try is our Accessible Gaming Controller (AGC) Bike (shown in the picture above). This cool system helps people who struggle with a lack of motivation to exercise by combining an aspect of fun with the exercise benefits of a stationary bike. The system uses a commercial bicycle to control the gameplay rather than a traditional console and gaming controller. For one of the games, a car racing video game, the user controls the speed and direction of the car by pedalling and steering the bike.
CanAssist will have one table and OneAbility will have the table next to us. OneAbility is a collaborative of community partners that aims to provide leadership to enhance the adapted sport and physical activity landscape, and CanAssist is one of those community partners.
ThunderFest, which is hosted by UVic Vikes, will run from 11:30 a.m. to 4:00 p.m. on Friday, Sept. 8, and the event will be taking place between the Student Union Building (SUB) and Cadboro Bay Commons. We hope to see you all there!
Go to Top