Coast Capital investing in young people
Latest News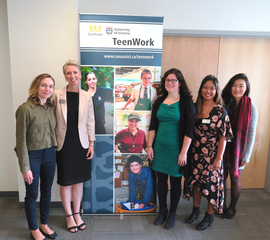 October 18, 2017
When Jeff joined TeenWork in his Grade 11 year, his job coach immediately noticed his impressive imagination, maturity and intelligence. Jeff had challenges with self-confidence and anxiety, which sometimes made him doubt his ability to function in the "real world." He also struggled with staying focused on tasks and long conversations, and with managing some organizational tasks, which caused him to doubt his abilities to find employment.
His job coach developed several strategies to support Jeff, which included making use of phone prompts and notifications. Together, they worked through some initial hurdles, and Jeff was soon able to set up meeting times and places independently.
"From the beginning, (his job coach) treated and interacted with Jeff with the assumption that he was a responsible young adult," says Jeff's dad. "It has been such a positive experience for him to interact with an adult other than his parents to seek a job for himself."
Coast Capital Savings: For youth, by youth
But it is only through generous donors that the TeenWork program can continue to provide customized support to young people like Jeff.
One of TeenWork's key donors, which has provided support over several years, is Coast Capital Savings. Driven by Coast Capital's "For youth, by youth" model, members of Coast Capital's innovative Youth Leaders Community Council make investment decisions for the organization's Community Investment Grants program.
Coast Capital Savings has generously contributed more than $140,000 since 2010, allowing CanAssist both to hire qualified staff to serve the approximately 30 youth participating in the program at any given time, and to provide staff with professional development opportunities to learn new skills and gain expertise.
Improved program capacity and reach
TeenWork's Program Manager Emerald Pringle says she was thrilled to learn that Coast Capital would be funding TeenWork again this year.
"It makes an incredible difference to the staff here, to know we have funding to continue supporting vulnerable youth in our community. We are so grateful Coast Capital for helping us to contribute to youths' futures."
In addition to supporting youth participants, the funding from Coast Capital Savings will help provide professional development to TeenWork staff focused on supporting youth with mental health challenges.
TeenWork will also continue to develop "train-the trainer" materials in order to broaden the program's reach. During 2016-17, TeenWork began its first train-the-trainer partnership with the Sooke School District (62) to expand the availability of employment services to youth in the Greater Victoria region.
Jeff transitions to adulthood with meaningful employment
With ongoing support from his job coach, Jeff created a résumé and cover letter, and spoke with local employers. After a couple months of skill building and job seeking, he found a work opportunity with the Nature Trails Society as a trail builder.
Today, Jeff continues to be happily employed with the Nature Trails Society, while continuing his journey to adulthood through education at Camosun College.
"Jeff's experience is common to TeenWork participants," says Emerald. "They gain confidence, independence and life skills through paid work – and discover that finding meaningful employment truly changes their life trajectories."
Go to Top