Hitch Lift increasing independence for Dick
Latest News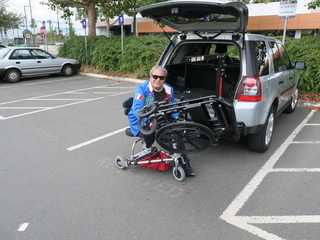 September 21, 2017
Dick, a Victoria resident, wanted to be more independent and get out into the community on his own. But before receiving CanAssist's Hitch Lift, this simply wasn't possible.
Since having an above knee amputation, Dick always needed a family member or friend to accompany him on outings in order to load his travel scooter into his vehicle and unload it once he reached his destination.

Dick heard about the Hitch Lift from another client, who showed him how the technology works. The Hitch Lift enables individuals to independently load a manual wheelchair, lightweight scooter or other mobility aid into a vehicle with very little physical effort or bending. The lift is battery powered and easily mounts to the trailer hitch of a vehicle, making it safer and easier for caregivers and other individuals to transport manual wheelchairs or lightweight scooters to appointments, social events and other activities. When not in use, the device can be easily folded for transportation.
Dick contacted CanAssist to express his interest and, after a number of meetings, CanAssist was able to deliver the Hitch Lift to him in May 2017.
Now that Dick has the Hitch Lift, he is able to go out on his own and is enjoying a new sense of independence and freedom.
"It's been great. Got home showing the wife how it works and we love it," Dick said. "It's going to bring me so much independence being able to go out without having someone come with me."
Dick recently came in to have his Hitch Lift inspected and was clearly very pleased with how the device has been working.
The Hitch Lift project was developed as part of CanStayHome, an initiative funded by the BC Ministry of Health.
Go to Top