Join us at a one-day workshop on brain injury
Latest News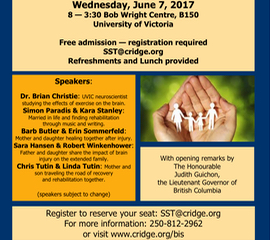 May 15, 2017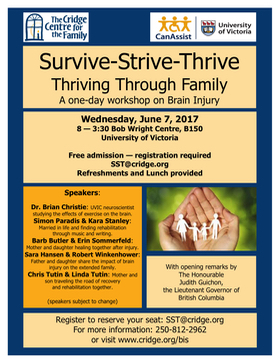 The University of Victoria and Cridge Centre for the Family are pleased to host the third annual one-day conference on recovery from brain injury.
Everyone is welcome to attend the free event, which will be of interest to brain injury survivors and their friends and family members; health care professionals (therapists, nurses, care workers etc.); member of the community members; and faculty, staff and students. The theme this year focuses on brain injury survivors' family relationships and how they've thrived after brain injury with their support.
The event, including refreshments and lunch, is free, but registration is required at SST@cridge.org.
Speakers this year include:
Dr. Brian Christie, a UVic neuroscientist who is studying the effects of exercise on the brain;
Simon Paradis and Kara Stanley, who are married and finding rehabilitation through music and writing;
Barb Butler and Erin Sommerseld, a mother and daughter who are healing together after injury;
Sara Hansen and Robert Winkenhower, a father and daughter who will share the impact of brain injury on the extended family; and
Chris Tutin and Linda Tutin, a mother and son who are traveling the road of recovery and rehabilitation together.
The event runs from 8 a.m. to 3:30 p.m. and will take place at the Bob Wright Centre, Room B150, on UVic's campus.
For more information, visit the Cridge Centre for the Family.
Go to Top