New device allows sailor to use ventilator safely on the water
Latest News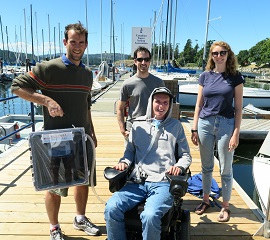 July 26, 2017
CanAssist's latest technology is keeping a sailor safe as he navigates along our beautiful coastline. The Ventilator Enclosure prevents water from entering his ventilator, allowing him to breathe safely while out on the water.
Trevor, a UVic student and athletic young man, was injured in a swimming accident four years ago that left him quadriplegic and dependent on a ventilator.
"Sailing is one of the few recreational activities in which he can participate independently and enjoy," said Dave Ashwell, Trevor's father. "But after his $14,000 ventilator was damaged by saltwater, he worried that this activity might also become unavailable to him."
Trevor came to CanAssist to develop a water-resistant enclosure that would keep his ventilator dry while he sails.
The challenge was to develop an enclosure that keeps the ventilator dry while still allowing fresh breathing air to reach the ventilator, cool air to circulate to prevent overheating and audible alarms to be heard. "There was a lot to consider to keep both Trevor and the ventilator safe," said Keir Maguire, the CanAssist design specialist who worked on the device. "In the end, it was worth it to see Trevor and Dave out sailing together on a beautiful, sunny day!"
The Ventilator Enclosure was made possible by generous funding from the Norgaard Foundation.
To learn more, please visit the technology page.
Go to Top