Operation Trackshoes a hit at UVic!
Latest News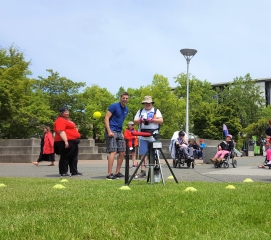 June 15, 2017
Participants of all ages attended this year's Operation Trackshoes event, taking part in new sports, competing in track and field events, dancing the night away and trying out CanAssist's popular BatSwinger.
Operation Trackshoes took place over the weekend of June 10 at the University of Victoria, and CanAssist volunteers were on hand Saturday afternoon to showcase the automated BatSwinger. The BatSwinger, powered by compressed carbon dioxide, swings and hits balls from a tee. It is activated by pressing a button called an accessibility switch – an important consideration for many people with challenging disabilities.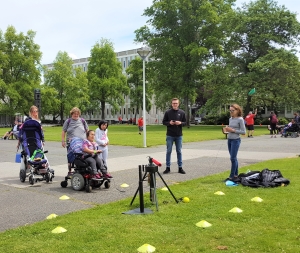 CanAssist employees Karina Zobolotny, Alex Taylor and Wyllie Mednis were in charge of the BatSwinger station, cheering on the approximately 40 participants who gave it a swing as they rotated through the stations. "Some people really liked the BatSwinger and came back after their circulation," said Alex, one of CanAssist's social media moguls. "We had 25 athletes try it in the first ten minutes!"
Operation Trackshoes, in its 47th year, is a weekend-long provincial sports festival for people with developmental disabilities. It provides events for all levels of skill and ability, including Fun, Recreational and Competitive events, topped off with evening dances, awards and closing ceremonies.
"It's something for the participants to be proud of and go home to tell their parents they earned seven ribbons! They get to go to school and tell other classmates how exciting their weekend was," said one attendee, describing the excitement of the event. "Another cool part is the evening dance – everyone got to dress up and feel so good about themselves. Then we danced the night away to songs requested by the athletes."
"You guys are always a hit – we'll see you next year!" said one Operation Trackshoes organizer to the CanAssist staff. We can't wait for what next year has in store!
To learn more, please visit the Operation Trackshoes website.
Go to Top