ProMotion Week kickoff a terrific success
Latest News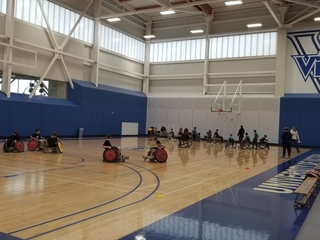 December 5, 2017
The event was organized by OneAbility, the region's collaborative for adapted sport and physical activity. Many members of OneAbility, including CanAssist, set up booths with technologies or ran activities, such as wheelchair basketball and wheelchair rugby. Dozens of elementary school kids were eager to try some adapted sports, which soon resulted in very energetic four-on-four wheelchair rugby games.
"OneAbility ProMotion Week's open house is a great opportunity for members of the public to try accessible and inclusive sport and recreation opportunities from over 15 different organizations in the region – there's something for everyone, for all abilities," said Alyssa Hindle, CanAssist's Inclusion and Special Projects Manager.
"The OneAbility collaborative works to improve the landscape for adapted sport and recreation in Greater Victoria, and this event is just one way in which people can get involved."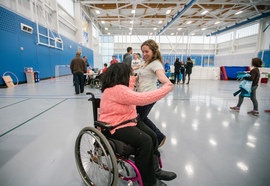 Among the many attendees was the Pacific Institute for Sports Excellence (PISE), who partners with the Victoria Wheelchair Sports Club (VWSC) to offer regular adapted sports such as wheelchair tennis, rugby, basketball and others. VWSC were the ones who generously supplied the wheelchairs for people to use at the open house. Meanwhile, the Gorge Narrows Rowing Club brought rowing machines for people to try. The group offers para-rowing at its club, giving athletes with physical barriers an opportunity to row and be active on the water.
Also on hand was Recreation Integration Victoria, which brought hand cycles for people to take for a spin, and Power To Be, an organization that provides nature and outdoor adventures in an inclusive environment.
To learn more about these amazing OneAbility partners, visit their websites at:
http://www.victoriawheelchairsports.com/
ProMotion Week continue through Dec. 6, with activities at CARSA, MOVE Fitness and PISE. So for anyone who was unable to come to the open house, there are still opportunities to try some free activities. The schedule is on OneAbility's website: https://oneability.ca/promo/
Go to Top