After 13 years, Charles is able to play guitar again
Latest News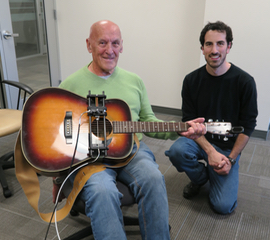 January 18, 2017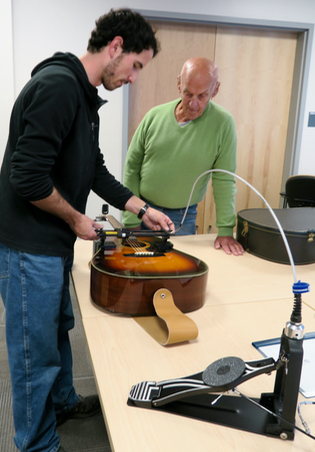 Playing guitar and performing in a band were a huge part of Charles's life until a stroke in 2003 led to the paralysis of his right arm and put an end to his playing.
In 2016, during a visit to UVic's campus, his wife happened to stop by the technology demonstration area in CanAssist's front lobby and saw a guitar that can be played with only one hand.
Judy asked whether a similar device could be developed for her husband. So CanAssist looked for funding and aligned the project with a donation made earlier in the year by Jo Campbell.

CanAssist's Guitar Strummer was developed for people who have lost the function of one side of their body and want to return to – or learn to play – the guitar.
The device works by introducing the foot as an alternate limb. By pressing with a floor pedal with his foot, Charles strums the guitar; and by rotating the same foot, he raises the pick above the strings to achieve different strumming patterns.
Strumming speed is controlled by repeatedly depressing the foot pedal, similar to that of a bass drum. This movement translates to a strumming motion through a flexible cable attached to a sliding mechanism, which holds the pick in position over the strings. The device can be attached to a wide range of guitar styles and shapes, and is designed to ensure minimal fatigue and strain for Charles's foot and leg.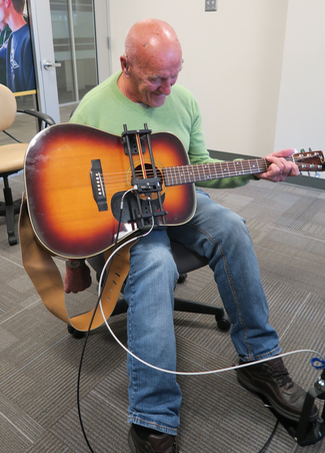 Charles came to CanAssist to get his new Guitar Strummer and, within no time, was playing simple songs.
"The guitar strummer has given Chuck a new lease on life – he so looks forward to playing his guitar every day." says Charles' wife, Judy.
Charles is starting off gradually because after 13 years not playing, his fingers are no longer calloused. But he already had his first "performance."
"We had a number of family members over for dinner on the weekend and Chuck played a couple of tunes while we all sang along," Judy explains. "It felt like old times again and Chuck's smile made it an extra special event for everyone."
CanAssist is grateful for the donation from Jo Campbell, which made this project possible.

Go to Top