TELUS provides technology-based supports to the TeenWork program!
Latest News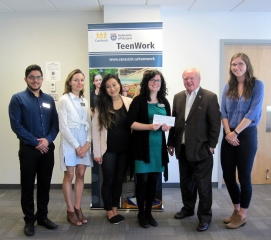 July 14, 2017
The TeenWork youth employment program is extremely grateful to have received support from the TELUS Victoria Community Board for 2017-2018. The TELUS Community Board has generously awarded TeenWork with a $20,000 grant focused on providing technology-based supports for youth – particularly those with Autism Spectrum Disorder and Fetal Alcohol Spectrum Disorder.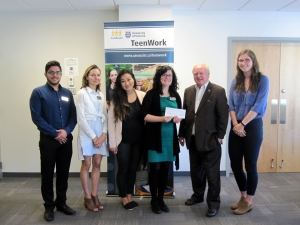 Technologies such as software applications for cellphones have been shown to help people with Autism Spectrum Disorder and Fetal Alcohol Spectrum Disorder in areas such as task sequencing, planning and time management. The funding from TELUS will contribute directly to supporting approximately four youth in the program for the year, and will allow one job coach to specialize in using assistive technology with youth.
"As part of CanAssist, TeenWork has enjoyed the benefits of working alongside engineers and has used technologies in the past to support youth in the program," said Emerald Pringle, the TeenWork Program Manager. "We are very excited for the opportunity to focus more on technologies with this new grant from TELUS."

The TELUS Community Boards have supported 4,857 projects and contributed $58.7 million since 2005 to improve the lives of youth and their communities through the power of technology. To learn more, please visit TELUS Community Boards website.
Go to Top