UVic students develop innovative new technology designs
Latest News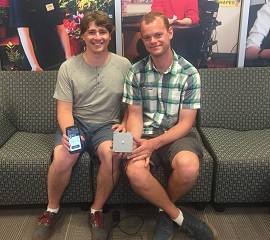 August 18, 2017
Each year, CanAssist provides opportunities for students to work on disability-related technologies or projects as part of their academic program or course requirements. This semester, CanAssist engaged two groups from the Faculty of Engineering – one from ELEC 499 (Electrical Engineering) and one from MECH 400 (Mechanical Engineering).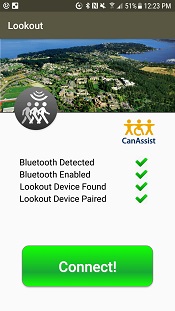 Last week, the ELEC 499 group visited CanAssist to present their solution to staff. The group was asked to create a basic prototype that detects lack of activity in an individual's home. The device was meant to notify a family member, friend or caregiver if the individual hadn't been active in their house for a period of time.
The main idea of the device is that setup is very simple, only requiring to be plugged into a wall and placed in a room in the house that is regularly used. This way, the device can act as an extra set of eyes on the individual without being invasive.
The team came up with The Lookout, a device that uses a small box with a built-in sensor that is triggered when the person walks by. If the sensor is not triggered for a certain amount of time, the device sends a text message to a caregiver to notify them that the person has not been active in his or her house. The group developed a corresponding phone app that allows the caregiver to set the times that the sensors are working, so they are not active at night or at other times when the person is not moving around in their home. Caregivers can also program other settings such as what the alert text message says and who receives alerts.
The MECH 400 group was handed the challenge of coming up with a device that works like a walker and helps people get down low to the ground. It had to be something a person could sit on that would lower them to the ground, with wheels so they could move around.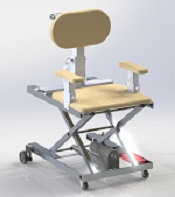 After doing copious research and visiting a care facility to get first-hand advice, the group came up with the Get Low device. They created and refined the design, and developed detailed drawings of the device. The Get Low device works with a small electric motor and battery and has handles that fold up or down so it can be used like a walker.
"The groups did a really nice job on these projects," said Mike Lewis, CanAssist's mechanical design specialist who supervised the project. "They were great at thinking through the problems and asking questions for clarification."
We are impressed every year by the ideas UVic students bring to our organization, and look forward to seeing where these ideas will take us in the future.
Go to Top