5Q: Daniel Goldie, Marketing, Promotions, and Web Content co-op student
Latest News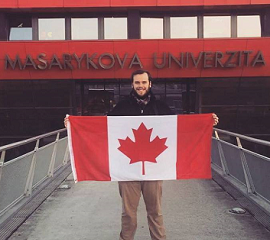 January 23, 2018
Daniel is a fourth-year Commerce student in the Peter B. Gustavson School of Business at the University of Victoria. He is from Victoria, BC, and has recently completed a semester abroad at Masaryk University in Brno, Czech Republic.
1. What's a typical day at CanAssist for you like?
My days can vary a lot, so it's hard to say! First thing in the morning, I'll usually check in on CanAssist's social media channels and answer any questions received or schedule any posts that day. Then, I'll spend most of my day conducting market research for potential product ideas CanAssist has. This involves checking out demographic statistics for certain areas, researching other products that may already exist or fill the need in question, and determining if there's an opportunity for CanAssist to make an impact in this area.
2. What drew you to CanAssist?
What drew me to CanAssist was its mission of helping people with barriers by offering innovative technologies, programs, and services that are designed to address unmet needs and ultimately increase well-being. We are taught a lot in UVic's business program about creating social value and helping your community by utilizing your business skills, so having the opportunity to put those ideas into practice with CanAssist was very attractive to me.
3. Tell us about your favorite pastimes/activities.
Some of my passions include travel, reading, and keeping up-to-date on world news. I'm a big history and politics fan, and I like to travel around and visit historical sites that I have read about. I also enjoy leisure cooking, and I usually spend my Sundays cooking something new that I found on the internet the week before.
4. What are your plans after graduation?
I'm Victoria-born and raised, so I'd like to live and work in another Canadian city to get a taste of something different. Right now it's between Calgary, Toronto, and Montréal, but you never know!
5. If you could live in any city for one year, where would it be?
One place I'd love to live in would be Edinburgh. I spent some time there this past fall while on academic exchange, and I had the best time. If you can get past the wind and rain--it's not unlike Victoria--it's an amazing place.
Learn more about CanAssist's co-op students.
Go to Top