5Q: Emma Lievens, Engineering co-op student
Latest News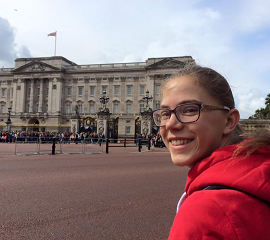 March 2, 2018
Emma is an Electromechanics exchange student from Thomas More College in Belgium.
1. What's a typical day at CanAssist for you like?
I don't typically have a day planned. Just last week, for example, I finished installing software on and assembling more than a hundred iPad kits for the Choices2Go project. This week I'm researching ideas for a switch-accessible name-stamper for an 11-year-old boy who experiences physical and verbal challenges.
2. What drew you to CanAssist?
I am taking an engineering program at Thomas More called "Socially Ingenious," but to get credit for it, I have to do my internship in an organization that focuses on creating technologies for people with disabilities. After asking my professor, Jan Dekelver, for ideas where to do my internship, he told me all about CanAssist and put me in touch with Paul [Green]. I really like working here!
3. Tell us more about your "Socially Ingenious" program.
In my first year, my classmates and I designed a pouring device to help people with Parkinson's disease pour their drinks without spilling. It also removes the need to hold a bottle for too long. In my second year, we developed a device that gently rocks a person to sleep. The device is then placed under a hospital bed, and is for people who have trouble sleeping. We started this project because we noticed that some people with dementia have trouble sleeping, and if they are slightly rocked, they would sleep better.
4. What are your plans after graduation?
I am hoping to start my master's degree in mechanical engineering.
5. Tell us about your favorite pastimes/activities.
I have been playing basketball since I was five years old, so I really like doing that. I also love reading and watching TV.
Learn more about CanAssist's co-op students.
Go to Top