5Q: Rachelle Ann Tan, Technical Writing and Media Creation co-op student
Latest News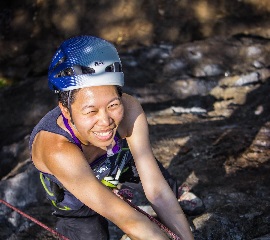 April 12, 2018
Rachelle is a master's student in English Literature at the University of Victoria. She is originally from the Philippines, and has recently completed two co-op work terms with Paladin Security at The Bay Centre and at the Royal BC Museum.
1. What's a typical day at CanAssist for you like?
It varies a lot and depends on the project(s) I'm involved with. On average, I spend the majority of my time creating documentation for technologies developed by CanAssist. This includes user guides, fact sheets, posters, and video scripts. I'll also spend some time testing or playing with the technology I'm writing about. On days when I'm waiting to receive feedback on my writing, I look after CanAssist's website and social media channels, compose news stories, organize assets in CanAssist's content management system, seek out opportunities for campus engagement, and do some editing work for anyone who needs it in the office.
2. What drew you to CanAssist?
Its inclusivity and willingness to serve and work with people of all abilities. I have always been passionate about making technologies work for people, so having the opportunity to put my writing skills into practice was something that motivated me to apply at CanAssist. Working with people from various academic backgrounds has always been my strong suit, so I was also attracted by the prospect of working with a collaborative cross-departmental team.
3. Tell us about your favorite pastimes/activities.
I'm currently training for an upcoming backpacking trip on the West Coast Trail, so I have been alternating between climbing, cycling, and running in my spare time. When I feel like staying inside, I usually read a book or read about outdoor gear reviews. I also love to bake desserts and work on my cross-stitch project.
4. What are your plans after graduation?
I'm definitely setting aside some time for exploring and travelling across Canada. I've been in school and working for as long as I can remember, so I think it's time to reward myself to a nice holiday.
5. If you could live in any city for one year, where would it be?
Somewhere in Spain! I'd love to be able to do the Camino de Santiago, practice my Spanish, and check out the local crags. The warmer climate will definitely be a bonus.
Photo by Mitchell Baynes.
Learn more about CanAssist's co-op students.
Go to Top