CanAssist participates in Hoopfest fundraiser for VWSC
Latest News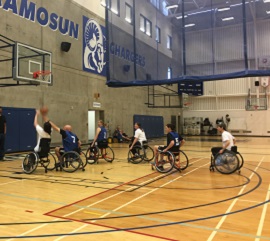 May 9, 2018
Two teams from CanAssist participated in Hoopfest, an annual wheelchair-basketball fundraiser for the Victoria Wheelchair Sports Club (VWSC) on April 27. The fundraiser was also supported by the Pacific Institute for Sport Excellence (PISE), Canadian Sport for Life, and the Saanich Police.

"This was my first experience playing wheelchair basketball, and I loved the experience. I was talking about it all week," said Emerald Pringle, the TeenWork program manager at CanAssist. "It is great to experience adapted sports. People with and without disabilities can play together and learn new skills."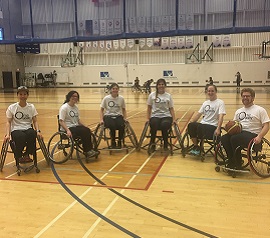 The fundraiser tournament consisted of a warm-up and skill-building session, five 3-on-3 half-court basketball games, and a full-court final-round game for the bronze and gold awards. Referees from VWSC attended and coached teams for each of the 10-minute games.

The CanAssist teams were made up of 1) Alyssa, Sara and Nathan, 2) Emerald, Natalie, and Rachelle.

In the end, PISE took home the gold!

The event was a fantastic team-building opportunity and a great way to promote inclusion in the community. CanAssist would like to encourage even more organizations to participate next year.
"I had so much fun!" Emerald said. "I am looking to organize a group of people to check out the drop-in wheelchair basketball at CARSA soon."
Go to Top