New CanAssist video focuses on technologies for the workplace
Latest News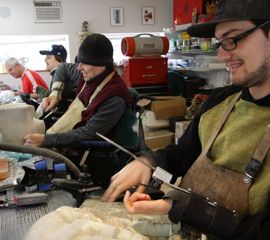 May 16, 2018
CanAssist is pleased to present our new Employment Technologies video, which features innovations developed to help people thrive in the workplace.
Some of the technologies featured are the Motorized Tablet Mount, the Ergonomic Butcher Knife Handles, the Customized Barber Chair, and a selection of software apps and tools for professional stone-carving artists.

CanAssist's goal is to provide technologies that help people overcome barriers and reach their full potential.


Go to Top