CanAssist releases impact report for 2017-18
Latest News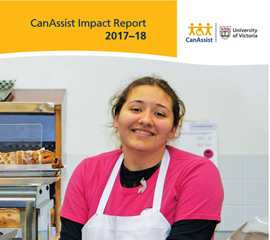 November 1, 2018
CanAssist is pleased to present its 2017-18 Impact Report, which can be downloaded here [PDF – 2 MB]. You can also request a hard copy of the document here.
This year's report features:
a snapshot of some of CanAssist's newest technologies and the clients who received them
highlights from our academic engagement program
stories of youth assisted by our TeenWork employment program
a financial snapshot of the last fiscal year and an outlook for the year ahead
information about our donors and partners
and more!
The Impact Report's cover features Bailey, a TeenWork participant who developed important skills in customer service and interacting with co-workers, helping her land a job at Sidney Bakery. TeenWork helps youth with physical and cognitive barriers find and retain meaningful work while they attend high school.
Learn more about Bailey and many other inspiring clients and partners in this year's Impact Report.
Go to Top